INSTANT POT
One of the most important rules for Protocol Participants is: Cook Thy Food, Don't Buy It From A Box.
That's easy to do in Phase I, where nutrients are limited so Participants can enter Lipolysis and burn their excess adipose fat. But Phase I only lasts two weeks, and Phase II – loaded with fat and calories – lasts a month. With all that butter, cream, duck fat and cheese, some heavy-duty deliciousness should be the result.
But. Much as we'd all love the time to create 5-Star French Restaurant dishes on a daily basis, that's not practical for those of us who work. Which is pretty much everyone whose last name isn't Trump or Koch. Worse, the most luscious, lip-smacking meats are those that require hours of braising. Which usually means a slow cooker: the pot where texture and flavor go to die. And where everything ends up tasting the same.
There haven't been many alternatives up to now, which is probably why so many people not only don't cook – they don't know how to cook. Oh, the stories I could tell about some Participants (and me!) but won't. 😀
Enter the (old-fashioned) Pressure Cooker. I remember my mother's PC. The constant hissing, like Snakes In A Kitchen run amok. The rattling of the pressure indicator, which you had to watch like a hawk to see if it was 1 line up (low pressure) or 2 lines up (high), because you then had to race to the stove to turn down the heat. Or lookout: Bombs Away – all over the kitchen ceiling!
Guess that explains why that PC wasn't used much, and why I kept the one I inherited in the basement.
Read about the older model below, or check out the newest version: The Instant Pot ULTRA – currently on sale at $21 off the regular price. It gives you even more control over cooking, and does so many more things, that I have since sold my DUO and bought one. LOVE IT! One feature that almost no one mentions, is that it does true, non-pressurized steaming, which means you can use a glass cover to see what's happening below. A great new way to steam mussels. And – this is amazing – the temperature control allows you to do Sous Vide cooking! Just set the temp for the food, set the timer, and walk away. You don't even need a water circulator, because the heat comes evenly from the bottom, not from an inserted stick.
Instant Pot Ultra 6 Qt 10-in-1 Multi-Use Programmable Pressure Cooker, Slow Cooker, Rice Cooker, Yogurt Maker, Cake Maker, Egg Cooker, Saute, Steamer, Warmer, and Sterilizer.
Instant Pot Ultra electric pressure cooker is the next generation in kitchen Appliances. A central dial with a simple turn and press provides added precision in program selection and adjustment.

New features: altitude adjustment, cooking indicator, and a steam release reset button. The Ultra button provides custom programming. The new features include sterilize, cake and egg programs.

Replaces 10 common kitchen Appliances – pressure cooker, slow cooker, rice/porridge cooker, yogurt maker, cake maker, egg cooker, saute/searing, steamer, warmer, and sterilizer.

Developed with the latest 3rd generation technology with an embedded microprocessor. The microprocessor monitors the pressure and temperature, keeps time, and adjusts heating intensity and duration.

UL certified with 11 safety features to provide peace of mind. New steam release reset button for safer handling. All components in contact with food are food grade 304 (18/8) Stainless Steel.

Accessories included: steam rack (with handles), recipe booklet, serving Spoon, Soup Spoon, measuring cup and user manual. To maximize performance of cooker only use genuine Instant Pot accessories
INSTANT POT ACCESSORIES
Some of the accessories sold online aren't worth it. Some really can take what your Instant Pot can do into a new zone. I have have each of these, and use them often.
Fold-out Steamer. Unfortunately, the rack that comes with the IP isn't very helpful. This SS has folding legs, a stainless steel extendable handle with which to pull up your cooked items, and currently comes with a s

tainless steel Julienne Peeler

. I use this a lot, for veggies and anything else I might want to spread out and steam.
Basket Steamer. I have the original model of this stainless steel basket (before the manufacturer got the message from tons of reviews that it needed folding handles to fit in the pot!) and love it. Though like everyone else who bought one, had to bash in the NON-folding handles to make it work. This basket is perfect for steaming anything delicate that you definitely don't want to fall out when you lift it, like mussels or eggs. This new version has folding handles that make lifting out a breeze.
Glass Lid. This is a must if you have the Ultra, since unlike the Duo, it not only does true (non-pressure) steaming, it does Sous Vide, too. And lets you see what's cooking with those programs, and the slow cook feature, too. This tempered glass lid fits perfectly, and has a small hole in it to let out steam.
Sealing Rings. Another must-have. I learned the hard way that the silicone rings absorb odors and are tough to eliminate no matter how often you wash it. Wasn't too thrilled to get eau-de-garlic-chicken in my cheesecake! Lesson learned. With this pack of rings (differently colors so you know which is which), you can use different rings — very easy to change out — depending on what you're making: savory or sweet. These are genuine Instant Pot rings, in this case important, because they'll tell you if you call and ask that any other kind voids the warranty.
Fat Daddio's 7-inch cheesecake pan. Speaking of cheesecakes… make one in an instant. Okay, 15 minutes (most of the net recipes have you cook them far too long, and are clearly not allowing for the time it takes for the pot to come up to pressure, or the release time, or the carry-over cooking time), which if perfect for this size pan. Because it's not a springform, it's easier to wrap in foil (no handles to get in the way), and you can make lots of other cakes in it, too, since the 3-inch high sides are fabulous for just about anything, and it comes with a lifetime warranty. Sweet.
Stack n' Cook. Not really a must-have, as the others are, but actually hard to do without if you plan to make some fabulous dishes (like lasagna or stuffed cabbage, a favorite of mine). Sure, you can 'make' both dishes and lots others like it in the inner pot, but as I discovered the hard way — you can't really get them out! These stainless steel containers fit in the pot perfectly, come with two lids (baking and steaming), stack to use together, and easy to pull out with the enclosed stand. Great for pot-in-pot cooking, too, like making rice separately while cooking chicken. Kinda pricey, but IMHO, worth it.
And for a few dollars less, the older model: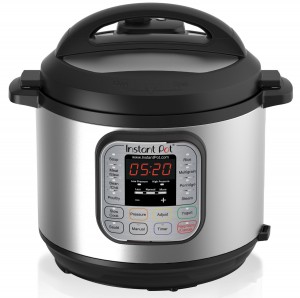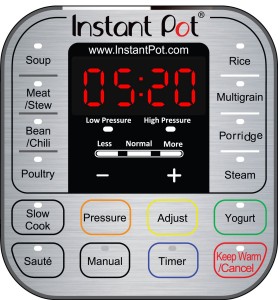 I saw one on Amazon (the original IP-Lux60) several months ago, with so many 5-Star reviews (many from folks who'd never used a PC before and who were as scared as I was about even trying) I bought one. That was a big decision. Not because of the price – it seemed reasonable enough – but because it would take up a chunk of my kitchen real estate. Which, considering the convection/microwave, the steamer/toaster oven, the has-its-own-condenser ice-cream maker, the coffee bean roaster, the two Kenwood standing mixers (5 and 7 qt.) and the Swiss Automatic Espresso machine already there, was a tad… crowded.
Still. If you don't want an appliance that makes a knock-your-socks-off cheesecake (more about which later) in only fifteen minutes, raise your hand. What? No one? Thought so.
The 5-quart Kenwood received an eviction notice, and the Instant Pot moved in. Not only no regrets – even Alton Brown would love this do-seven-different-things multi-tasker – I love it so much I'm selling my IP-Lux60 and buying the new IP-Duo 60, which makes yogurt and has both high and low pressure. Plus, unlike all the other electric pressure cookers I looked at, the IP has a stainless steel cook pot instead of a Teflon-coated one.
A Few Details:
7-in-1 Multi-Functional Cooker–Pressure Cooker, Slow Cooker, Rice Cooker, Saute/Browning, Yogurt Maker, Steamer & Warmer
Large, easy to use control panel with 14 built-in Smart Programs, Dual pressure, Automatic keep-warm and 3 temperatures for saute and slow cook
Delay cooking time up to 24-Hours; Manual setting up to 120 minutes of cook time
UL and ULC certified with 10 proven safety mechanisms; Highly energy-efficient and kitchen friendly
Include 3-ply bottom stainless steel cooking pot, stainless steel steam rack with handle & manual and recipes in English, Spanish, Chinese and French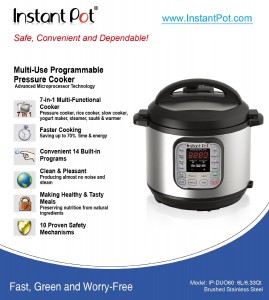 It's also completely silent, and doesn't need any tending whatsoever. Just press a button (or use the manual key if you're following a recipe) and walk away. It reaches pressure on its own, cooks to the specified time, then shuts off and goes into keep-warm mode after beeping a few times to let you know it's done.
I can make a chicken thigh stew in 12 minutes. Perfectly cooked beets in 10 minutes. Beef or pork ribs, falling off the bone in 40 minutes. Mussels in wine and cream sauce – today's meal – in precisely 3 minutes. Brown coconut rice, one of my favorites, 15 minutes. Those of you who also make brown rice know how unbelievable that is. And unlike a slow cooker, which drains all the flavor out of a dish, cooking under pressure requires almost no liquid and pushes all the spices and flavoring into the food! Win-Win as far as I'm concerned.
In the over three years I've written this blog, I've never endorsed a product.
Supplements that I've tested and whose efficacy I can attest to, yes – but never a product. Until now. I love cooking great food, and eating great food, but until now haven't found a product that would let me do both while giving me the time to do it easily and almost daily. So yeah, I love my Instant Pot. If you have any questions before ordering, please ask away – here, or on the Contact SugarFree page. Happy Cooking!